Align Footwear® Sandal Guide – for Women and Men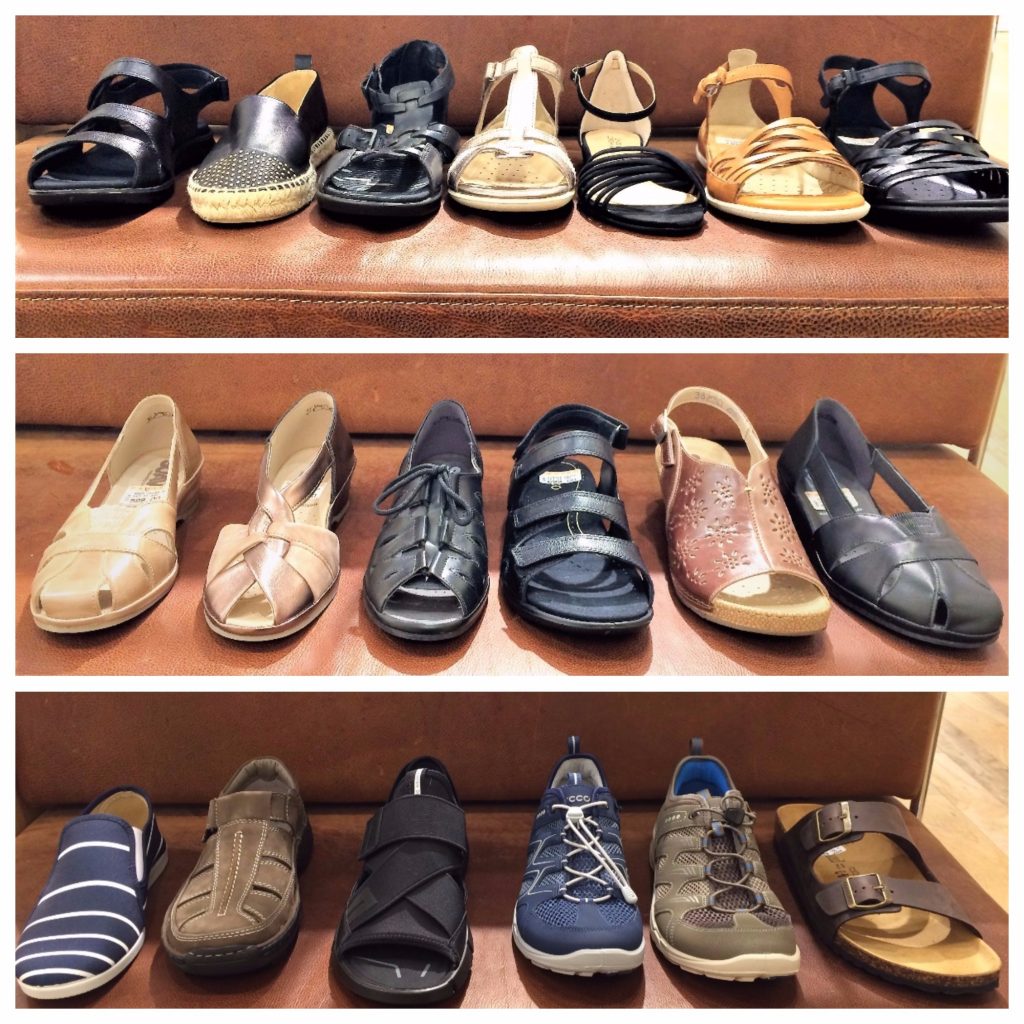 "But I cannot wear the insoles in my sandals," customers often say…
But – oh yes you can!
In the hot summer months, many of our customers naturally jump out of their closed shoes and cool off with a pair of delicious airy sandals. When wearing insoles, you may be a bit challenged, both when it comes to toe straps, straps and fittings in general, however. But do not worry – we have some suggestions to you as regards how insoles and sandals can easily work together.
The insoles fit into many types of sandals –the best solution being sandals with heel caps
When you need insoles in your footwear, it is necessary to make clear that not all kinds of sandals may be combined with insoles! Our best experience and recommendations are sandals, having a fixed heel cap – i.e. providing the best effect and support.
In this Sandal Guide we are presenting different types of sandals in which you may use your Align Footwear® insoles – you will find sandals for many different purposes: nice sandals, more practical ones and for different age groups.
We will present to you various models with replaceable soles, giving the insoles from Align Footwear® plenty of room– i.e. several examples from Rieker (German brand), Ecco (Danish brand), and Suave (English brand).
When buying new sandals, we will always recommend you to buy sandals made of leather, as they are easily blocked out – something your shoe dealer will be able to assist you with. They will be more than happy to give you advice and guidance in this regard.
In some cases, you may want to choose a size larger than normally when buying new sandals in order to ensure plenty of room to your feet as well as the Align Footwear® insoles – please notice that sandals fit your feet more closely than e.g. a pair of sneakers.
Good helpers: Tape and black marker!
If you have the feeling that the insoles are slightly loose in your sandals (or if the sandals do not have a fixed heel cap) you may glue the insoles onto the sandals. We have received a lot of feedback from happy customers having successfully tried the solution to put velcro strips or double-sided tape (such as carpet tape which is a little more permanent than e.g. velcro bands) underneath the insoles -then the insoles do not mess around and will provide a good and supportive foundation for the feet.
If you are wearing black sandals – and if you feel that the white part of the insoles become too visible in your sandals, it may be an idea to use a black permanent marker in order to colour the white. In that way, the insoles will not be so easy to see. One of our Danish dealers has done exactly this in her Rieker Antistress sandals: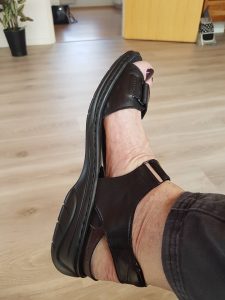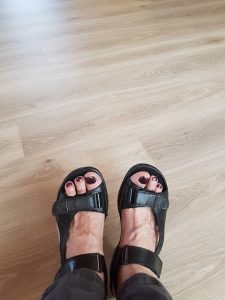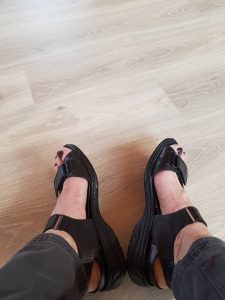 Remember your insoles when shopping
In addition to the models shown in the guide, we can also strongly recommend the sandals from Angulus (Danish/ Portuguese brand), New Feet (Danish brand), and e.g. Green Comfort (Danish Brand). All of the mentioned are easily combined with the Align Footwear® insoles.
But first of all: remember to bring your Align Footwear® insoles when shopping – and try them out on your own feet! You will probably find many more models than mentioned in which you may wear the Align Footwear® insoles – each and every year, the sandal market is filled up with new, delicious ones!
From the left:
1: Rieker Model 425-74-147-10
2: B&CO Model 222-71-004-10
3: Bubetti Model 442-74-160-10
4: Gabor Model 442-74-160-10
5+6: Ecco Model 442-71-230-21 – black – Also available in metallic colour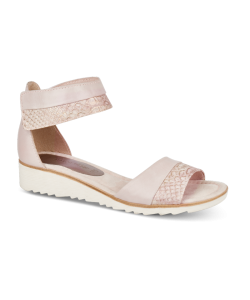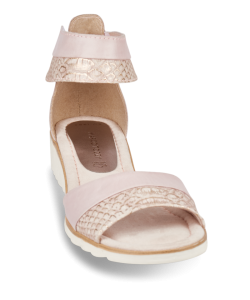 Marco Tozzi Ladies Sandal Beige Model: 2-2-28604-28
Very smart Ladies Sandal in fur combined with imitation leather. The sandal has an adjustable strap made by Velcro around the ankle and a strap on top of the foot. Both straps have a nice, glossy snake pattern and a solid colour. It also has a soft cover and a 25 mm heal. The sole is non-slip PU. It may be advantageous to make use of double-sided carpet tape in order to fix the insoles in the sandals.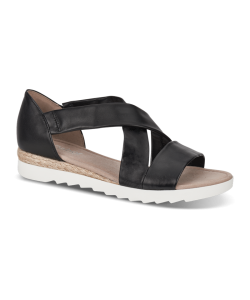 Gabor Ladies Sandal – Model 6271127
Delightful and comfortable Ladies' sandals from Gabor. The upper part of the leather has a nice texture , which gives a nice touch to it. The belts are wide and comfortable and end in 2 small elastics straps on the back cover. The back cover is fixed and both this and the cover sole are made by leather. The cover sole has extra padding which provides good comfort. The sandal has a small heel and a soft and flexible outsole in rubber.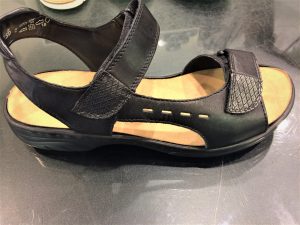 Rieker Anti Stress Model: 425-74-147-10
Comfortable sandal with focus on ease and comfort. The insole of this sandal may be removed – it is attached with velcro – thus easily replaceable with an Align Footwear® insole. It might be a good idea to use velcro in order to secure fully seating of the Align Footwear® insoles, however.
Sandals for Men
Sandals and Summer Shoes for Men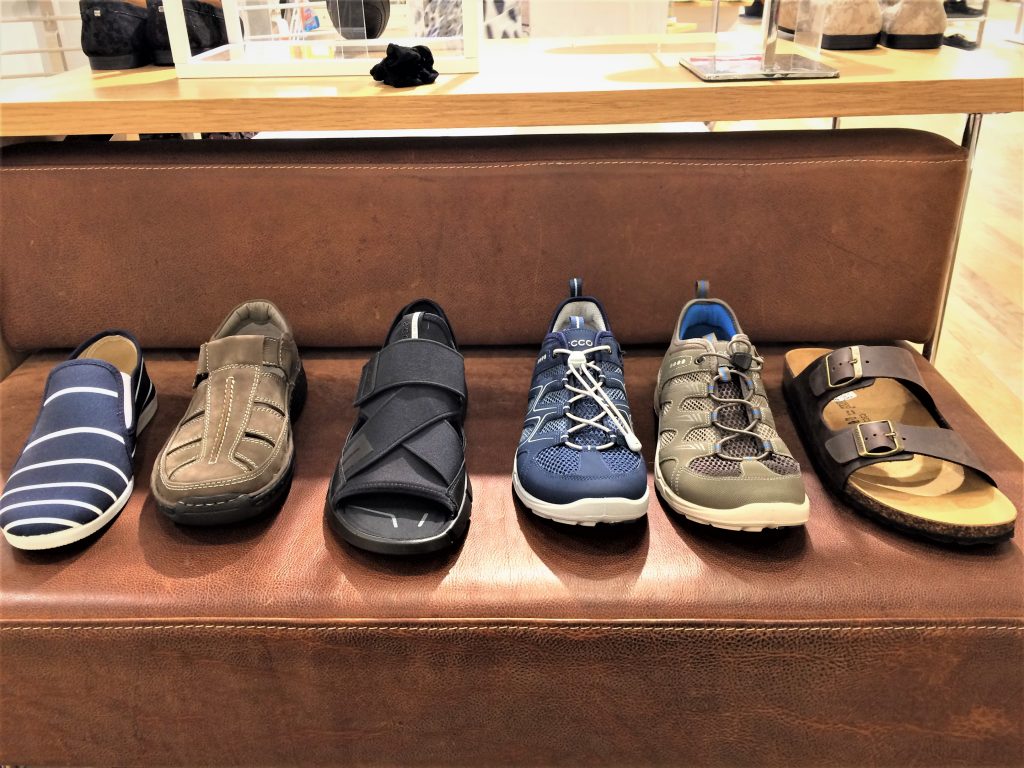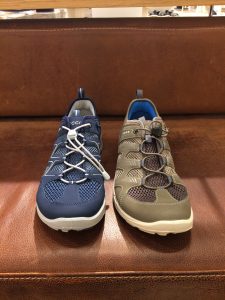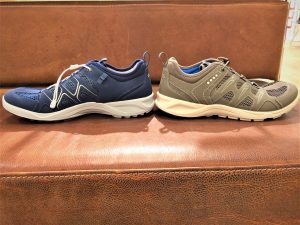 Ecco model: 27720288 – available in blue and beige colours – lightweight shoes with good ventilation and quick and easy snoring.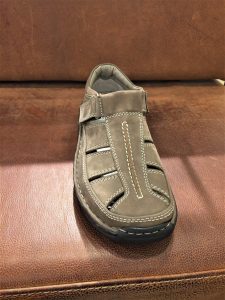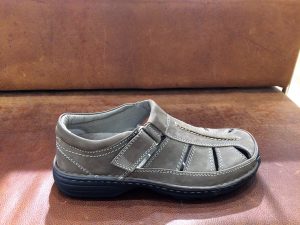 Ara model 11-11032 Classic Summer sandals – the insole is easily removed, providing plenty of room for the feet. Good airiness and easy feeling. The sandal sits well on the foot, thus ensuring safe footing and good support.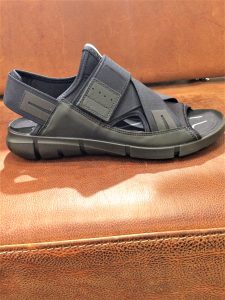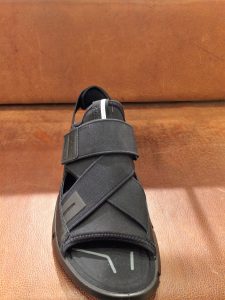 Ecco Sandal – model 842004 – Lightweight sandal with practical and comfortable elastic straps for optimal and comfortable fit. The insole may be removed.
Sandals for women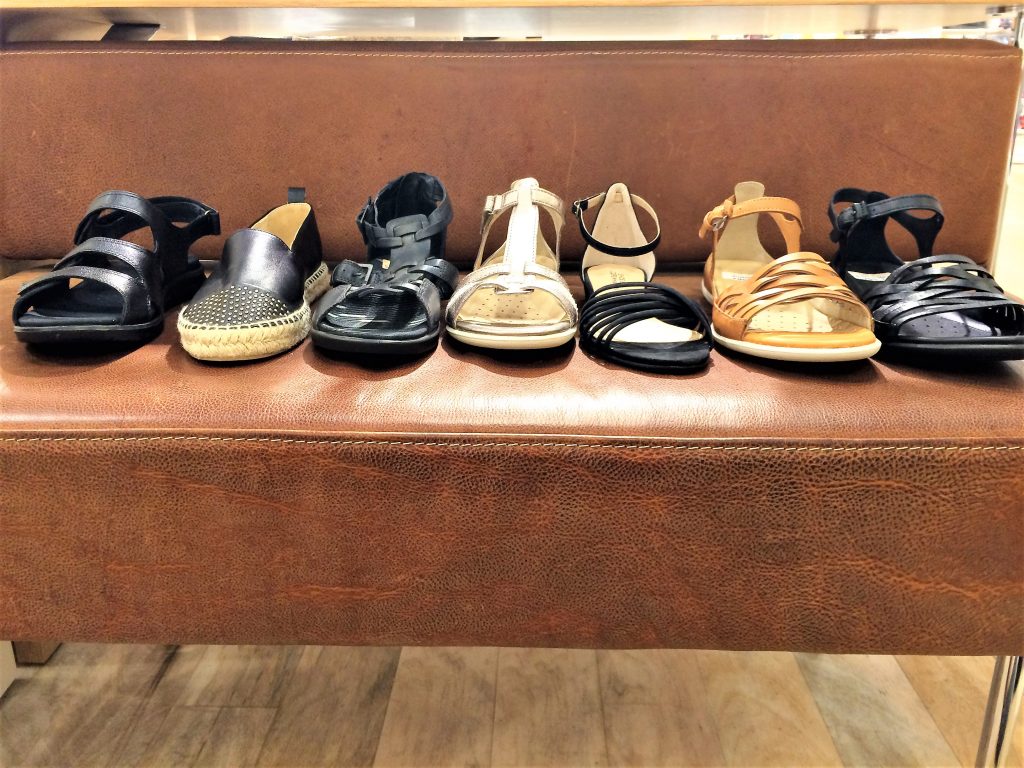 From the right
1+2: Ecco Model: 240973 – available in the colours sand, black and blue.
3: Shoe Biz Copenhagen Model: 'Darina 387-09-247' – available in black.
4: Ecco: Model 240873- available in black and gold.
5: Ecco Model 727583- available in black.
6: Billi Bi – espadrillos – for the summer with nice place for insoles.
7: Suave Model Nice – with velcro.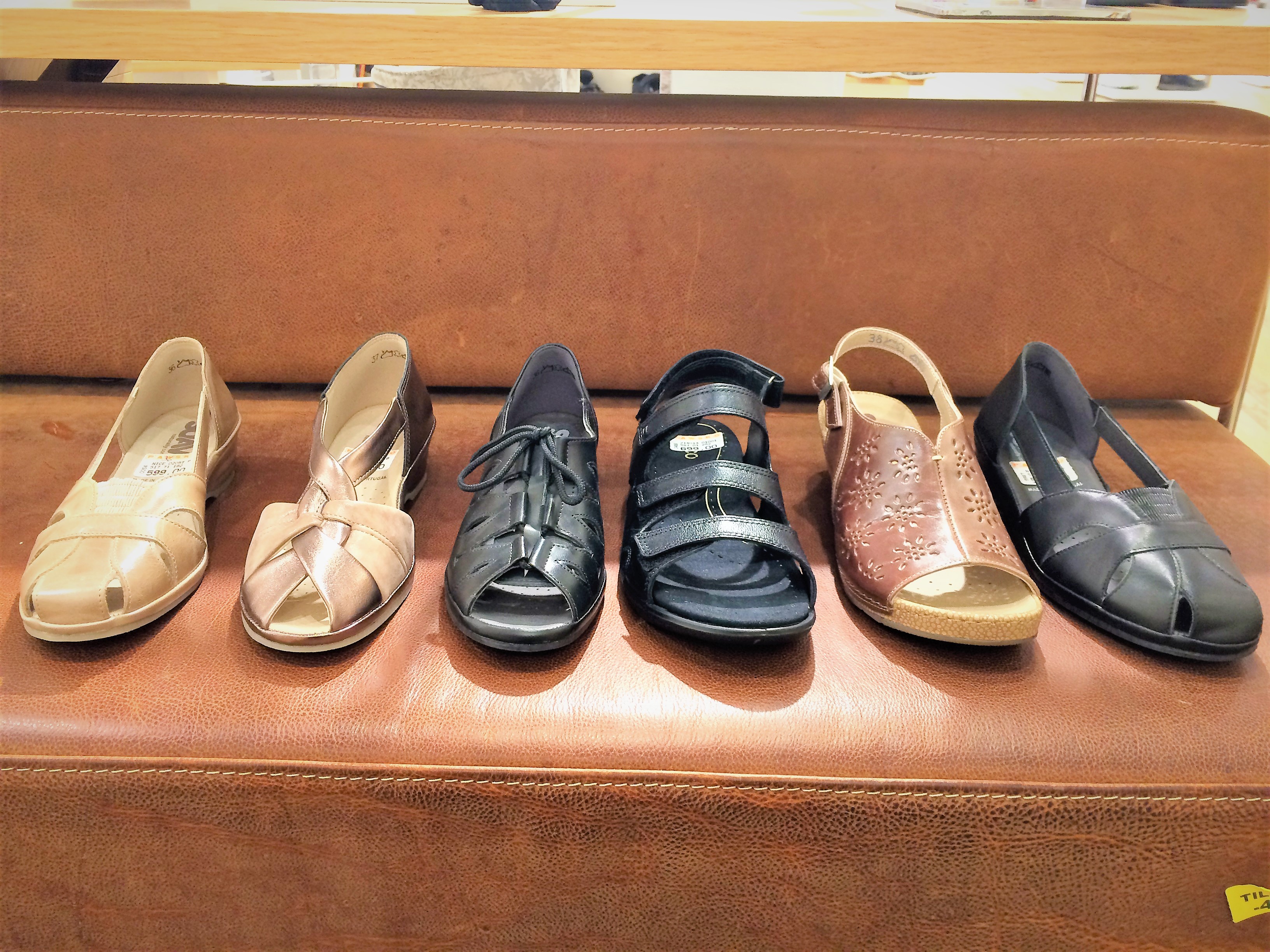 From the right:
Suave Nice Model 0205T
Suave Model 8506T – braun
Ecco Model 214013
Suave Nice Model 0222T
Suave Nice Model 0063T
Suave Nice Model 0205T
---

Why are the Align Footwear® insoles so great?
The insoles from Align Footwear® increase our mobility, comfort and performance. They promote a better posture and body fit in your kinetic chain and improve your wellbeing and wellness.When your body by means of these insoles moves correctly in the natural position, the load of each step you take is evenly distributed. Our insoles reduce destructive shock waves throughout your body every time your feet hit the ground, resulting in less pressure on your joints, muscles, tendons and ligaments.
The insoles from Align Footwear® will help correcting your body posture, thus resulting in an optimal alignment. The insoles will make you walk, stand and run correctly in your footwear, a fact which has a positive impact on the entire skeleton.
---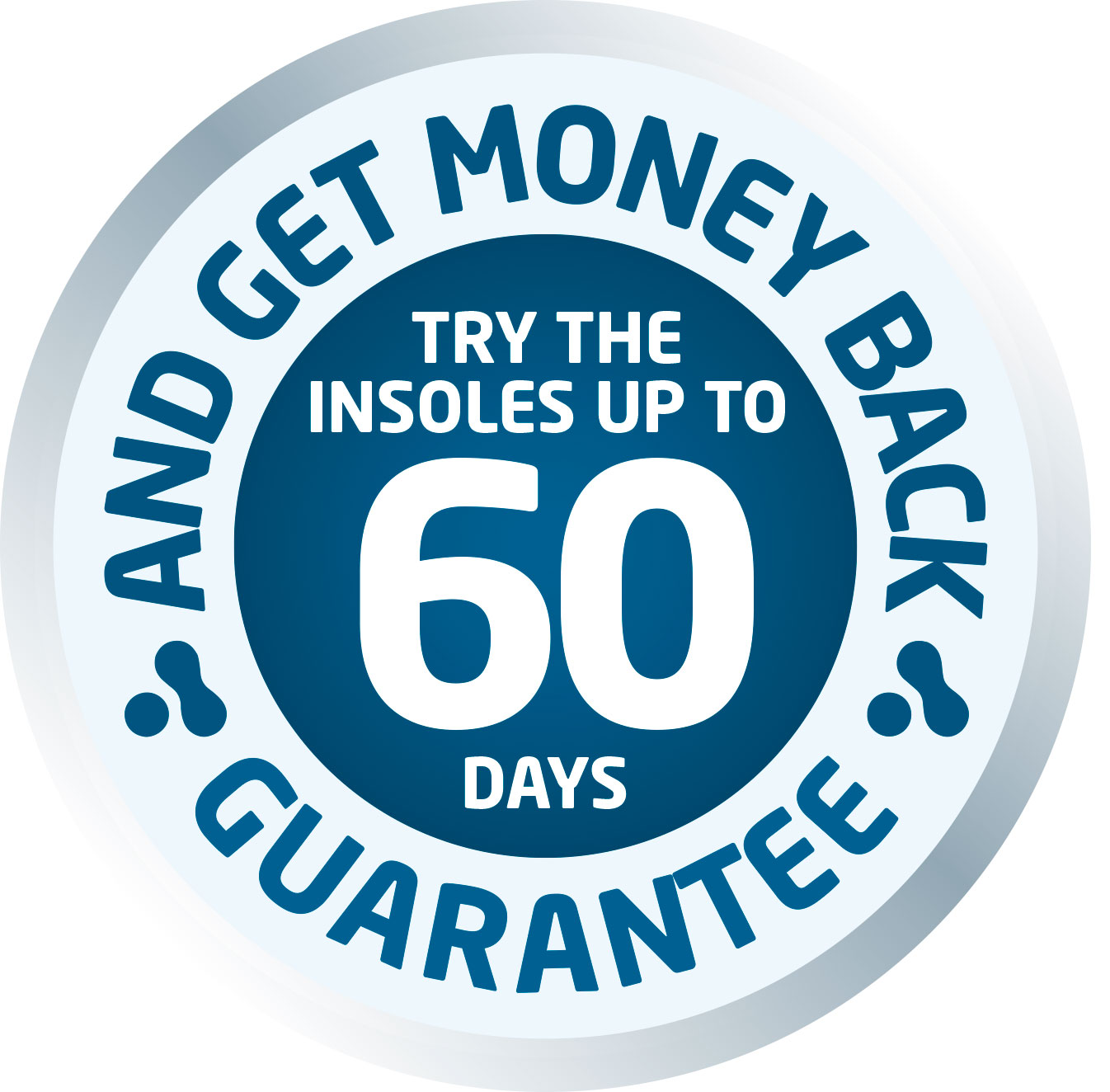 60-days Refund Guarantee
Full satisfaction or your money back