A hollow foot (pes cavus) is a condition in which the foot arch is particularly high or "hollow". Hollow foot is a relatively rare disorder that hits people of every age. One or both feet may be affected.
Due to the extraordinarily high arch, body weight is distributed abnormally on the foot. It is not distributed evenly across the whole of the foot. When you walk and stand, most weight rests on the ball of the foot and on the heel. Foot imbalance causes a number of different symptoms.
How does hollow foot develop?
It may be difficult to determine the precise cause of a hollow foot. Hollow foot is, however, often a symptom of a neurological disorder. If a hollow foot is due to a neurological disorder or similar condition, the hollow foot will gradually worsen as the underlying disorder develops. If a hollow foot is not due to a neurological disorder or similar condition, the hollow foot tends to remain as it is, i.e. it does not worsen over time. In other cases, a hollow foot is caused by a genetic abnormality of the foot structure. Children who walk on their toes may later develop a hollow foot.
A hollow foot may also be a consequence of:
Cerebral paresis
Club foot (talipes equinus)
Slipped disc
Charcot-Marie-Tooth disease (CMT)
Spina bifida
Polio
Muscular dystrophy
Apoplexy – stroke.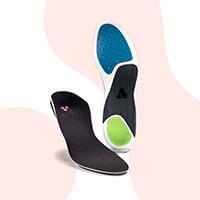 More than 300,000 customers have already bought
Free shipping
Full satisfaction or money back within 60 days
Now 69€
What are the symptoms of hollow foot?
When standing, the foot arch is clearly relatively high. This is the most obvious symptom of the disorder. Pain and instability may also indicate that you have a hollow foot.
Other symptoms include that your heel bone is at a relatively acute angle and that the middle section of your foot bears very little or no weight. Often the heel will roll inward and the forefoot fall inward. This is called pronation. Curled toes and a feeling that your Achilles tendon is tight may also indicate that you have a hollow foot.
If you have a hollow foot, you may also develop complications:
Irritation and inflammation of the arch ligament
Inflammation of the shin bone
Pain under the heel
Achilles tendon issues
Inflammation of the ligament under the foot, plantar fasciitis
Heel spurs
If you have a hollow foot, there is excessive strain on the heel fat pad, and tendons, muscles and ligaments of the foot arch. A hollow foot puts most strain on the heel and forefoot. Pain in the heel and forefoot are also strong indicators of hollow foot.
Compared to a well-aligned healthy foot, the bone and fat pad under the heel in a hollow foot are often exposed to excessive strain.
If you have a hollow foot, the forefoot is also exposed to excessive pressure. One of the consequences of a hollow foot is a taut Achilles tendon. To relieve pressure on the tendon, you unconsciously redistribute your body weight, which increases the weight on the forefoot, often including the big toe.
To see which part of your foot bears most weight, check for hard skin. You can also check to see where your shoes wear down fastest. Wear may also indicate which part of the foot carries most weight.
To relieve the pain caused by a hollow foot, it is important to focus squarely on pressure relief. Wear good shoes with shock-absorbing heels. You are well advised to consider wearing good supportive insoles.
If you have a hollow foot, in most cases you will find that there is a taut ligament under the foot, which is often the cause of inflammation.
How do I best treat a hollow foot?
If you have a hollow foot, it is important to focus on relieving pressure on the foot. A hollow foot is a misaligned foot. Misalignment means that the burden of body weight is unevenly distributed. Unevenly distributed body weight presents an increased risk of various pain-related issues up through the body.
Avoid walking on a hard underlay.
Wear good, supportive and shock-absorbing shoes, preferably with an insole.
Ask your doctor, physiotherapist or foot specialist for gentle exercises to relax the ligament under the foot. Strengthening the small muscles under the foot can relieve pressure on the ligament under the foot.
In rare cases, surgery may be required to sever adhesion of the ligament under the foot from the bone.
We have good reports from customers who have a hollow foot. Align Footwear® insoles improve mobility, comfort and performance. They encourage a better posture and physical adaptation in the kinetic chain, to make you feel healthier and improve your well-being. When the insoles coax the body into a correct natural posture, the strain of each step is more evenly distributed. Align Footwear® insoles reduce the destructive shock waves running through your entire body . This reduces strain in your joints, muscles, tendons and ligaments, Align Footwear® insoles also contain a soft gel that distributes the burden of body weight and relieves any pain you may have due to a heel spur. Our insoles correct heel position by means of three planar points, for which we hold the patent. When the heel is aligned and straight, your knees, hips and shoulder will also be aligned. . Good alignment also eliminates unnecessary strain on the muscles, joints, bones and ligaments because in an aligned body, body weight is optimally balanced.
Contrary to conventional approaches, Align Footwear® seeks to avoid bracing the foot with arch supports, compression pads and wedges. These types of pads impair mobility and weaken foot muscles. The tri planar points in our insoles align the heel. Our insoles work well with the foot exercises that are often recommended by foot specialists if you have foot problems . If you force the foot into a specific position as you do when you have wedges, compression pads or arch supports, you minimise the effect of such foot exercises.
The Align Footwear® insole is unique. There is no product like it on the market. It is important to adjust ankle position in order to optimise physical conditions and allow the foot muscles to move as nature intended. We have customers who are accustomed to standing or walking for more than 10 hours each day. They tell us that, when they have worn Align Footwear® insoles for a while, they feel great Again.
We recommend that you give Align Footwear® insoles a chance. Try our Align Footwear® insoles on your feet. You can try the insoles for up to 60 days. If you don't feel that they make a difference, just return the insoles to us and we will refund EUR 69 in full.
---
60-day Refund Policy
Full satisfaction or money back